If your blog converts well then just imagine the increased revenue and ROI you can gain from simply optimizing the past.
In this case study, I will explain exactly how Brian got these results and how you can do the same.
Optimizing The Past
I am guessing you have either been told or read that in order to increase organic rankings and traffic; you need to be posting regular new content. While that advice is not bad advice, it does make you forget about the content you have posted in the past.
Therefore, past content is left to sit there lonely and afraid in the big wide world of the World Wide Web… a bit of a tongue twister.
Brian managed to increase his organic traffic by 260% without any new content being published. That almost sounds too good to be true! I can tell you now though that this is a tactic that will work and one that you will thank me for sharing with you.
What Is Historical Optimization
So what is this historical optimization tactic I am talking about? To put it simply, it is a term used by marketers when referring to updating old blog posts to make them better. For example, if I published a case study 2 years ago, I could go ahead and optimize it with how that case study is performing 2 years later.
It doesn't have to be a number of years ago though; it would be a couple of months or even weeks. When I say "old", I just mean any blog post that already sits on your blog.
Analyzing The Attribution Report
One of the first things Brian did when starting his historical optimization journey was to review the performance of his already published blog posts. HubSpot has the perfect tool for this, called the Attribution Report.
While many post new blog posts to increase traffic, they don't realize what percentage of readers are actually visiting older posts. In fact from the Attribution Report, HubSpot found that 76% of their blog traffic was directing to old blog posts. This is when it became obvious to HubSpot, just like with Brian Dean, that optimizing older posts could be a great (and easy) way to increase organic rankings and traffic.
It's not all about increasing traffic though; it is also about generating leads through blog posts. If you know HubSpot well, you know the amount of blog posts they pump out every single day. In fact at the time, they had over 6000 blog posts on their blog. I bet it was a shock to their system to find out that only 30 of those 6000 blog posts amounted to 46% of the total leads in a month.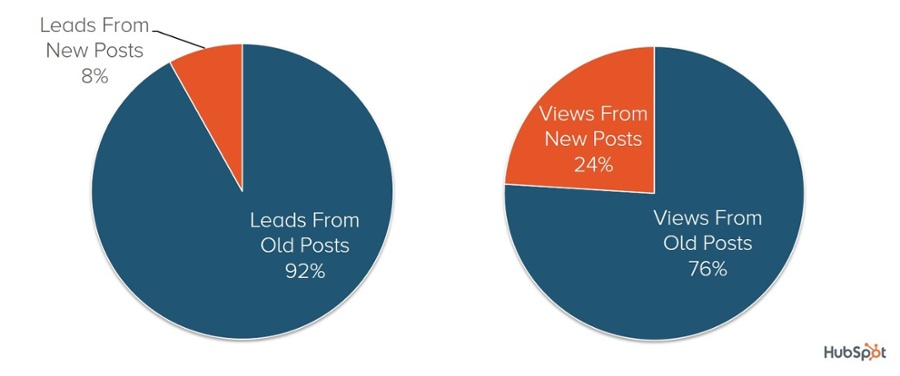 Why Historical Optimization Important
Because of the advice marketers have been dishing out, the amount of blog posts published every single day across the world has increased immensely since October 2006. In fact in October 2006, over 595,412 blog posts were published on WordPress compared to the 64,256,249 blog posts that were published on WordPress in September 2016. That is just on WordPress too, not counting BlogSpot, HubSpot etc.
That's an increase of 10,692% in just fewer than 10 years!
Even in one year there has been increase of 23% in how many blog posts were published on WordPress in a single month.

Because of this blogging overload we now have, the competition has never been so severe for content marketing. As Paul Hewerdine put it "the supply of content is growing, but demand is static."
This is precisely why quality is much more important than quantity.
Historical optimization will help to add even more value to your older posts and give you a leg up on competitors.
Historical Optimization Results
Let's get back to Brian and what results he got from using this historical optimization tactic.
After reviewing the attribution report, he felt that the perfect blog post to test this new tactic out on would be on one of his case studies.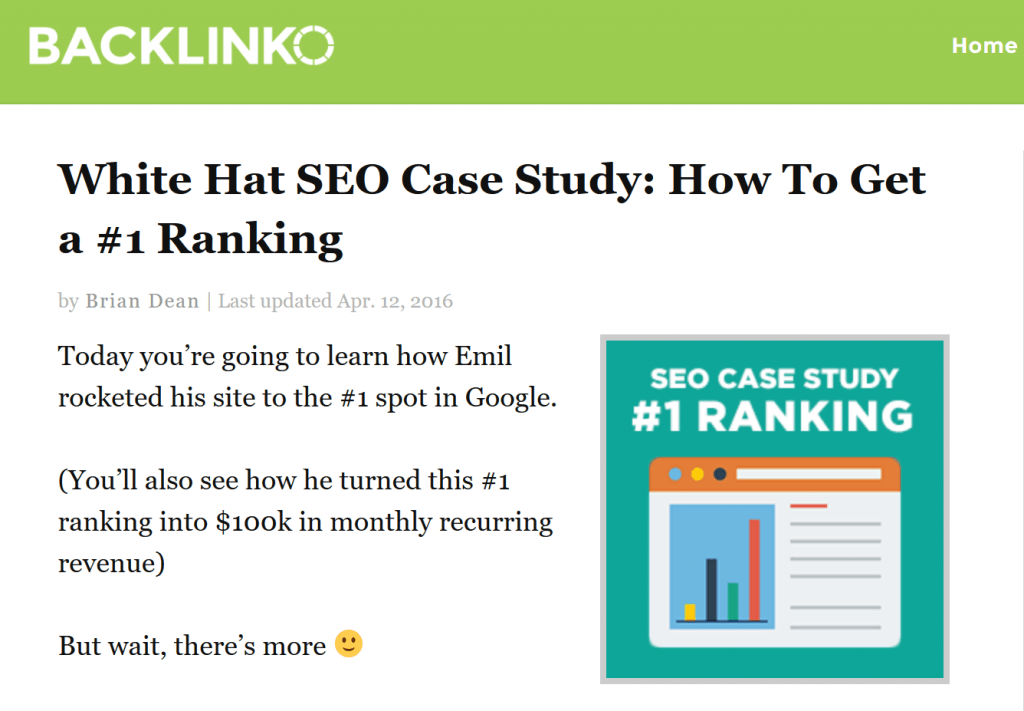 A number of months ago, he published a case study on how a client of his had reached the #1 spot on Google search results. Brian knew that he could add further value to this case study by giving readers and update and whether the client was still #1 and growing.
2 weeks later, the results of that historical optimization was a 260.72% increase in organic traffic and a flood of social media traffic.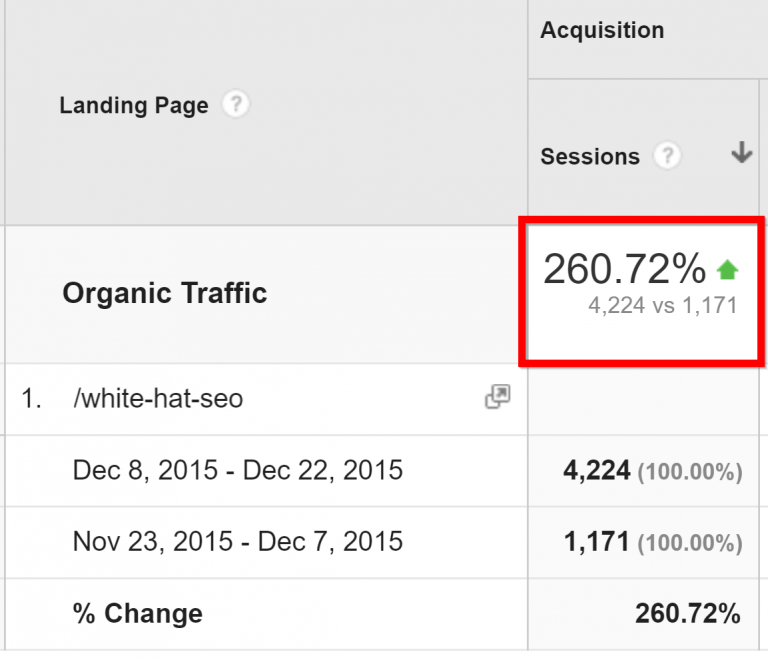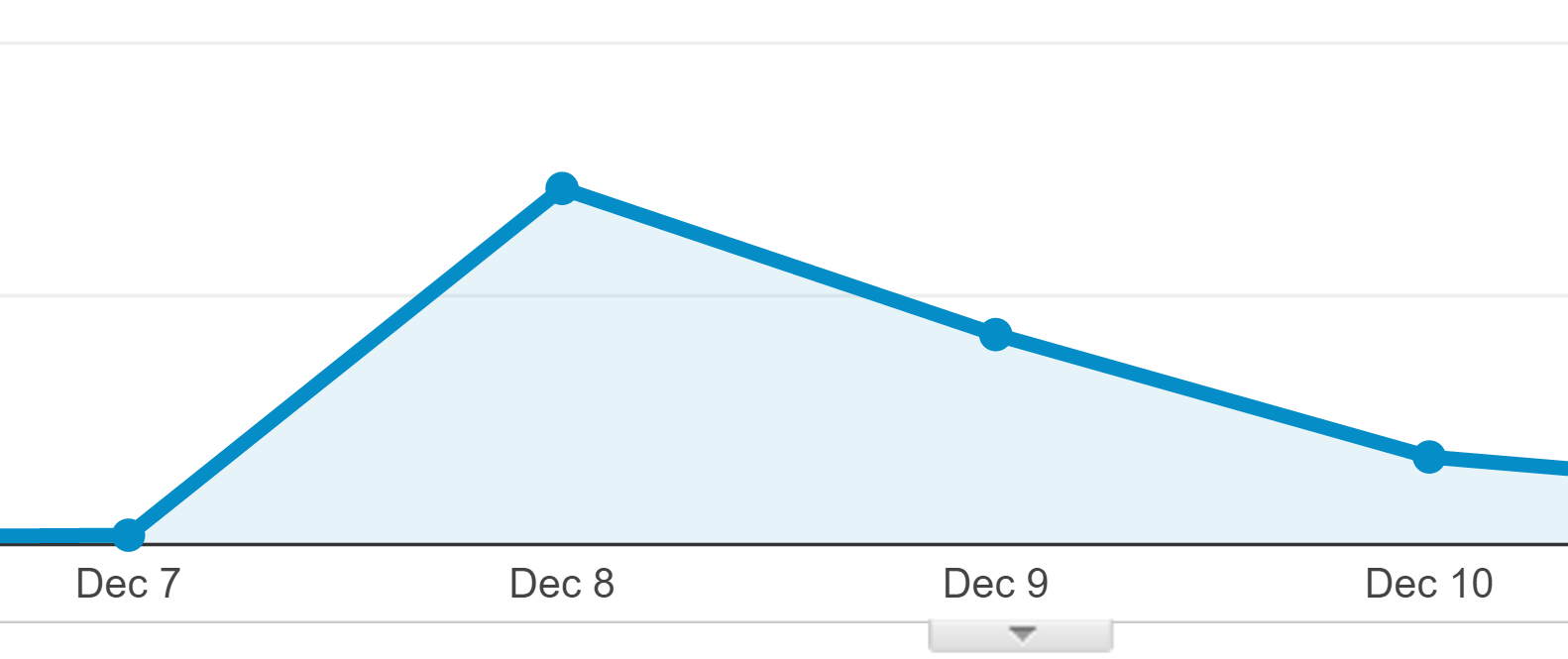 The good news didn't stop there though; he also received a huge amount of backlinks which we all know is good for SEO. These newly acquired backlinks boosted him from #7 to #4 which would result in double the traffic according to this Moz graph.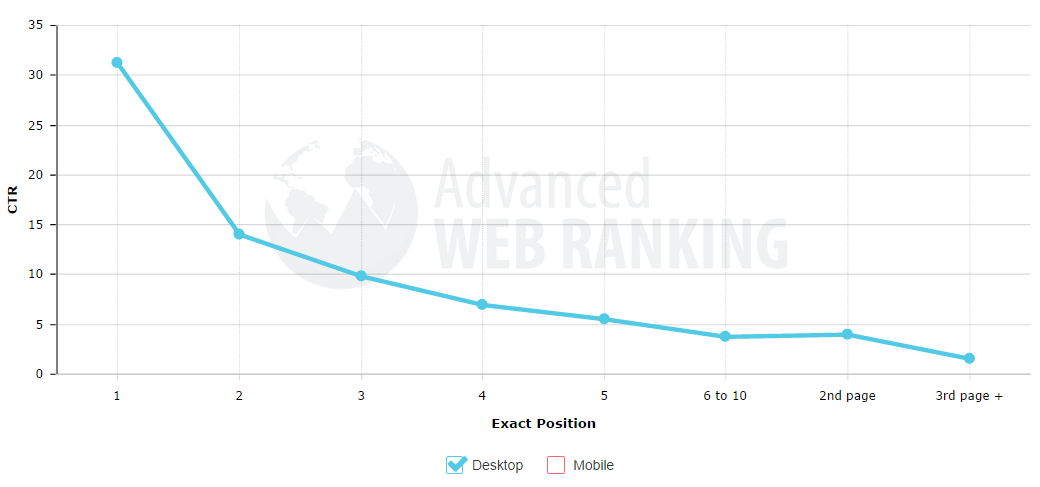 The 3 Step Guide On How To Do The Content Relaunch Strategy
Now that you have seen this secret strategy can work, I bet you're all fired up and ready to try it out for yourself.
Before you jump in head first though, read through these three steps first to make sure you do historical optimization right. The three steps are:
Identify content that isn't performing – whether they aren't ranking, generating traffic or converting; identify which blog posts need optimizing.
Make that content better – one of the most obvious steps is to make older posts better whether it is to add target keywords, internal links, updates etc.
Relaunch that content – once you're happy with the added value to the older blog post, it is time to relaunch and share.
I have gone into each of these three steps in a lot more detail though so keep reading.
1.      Identify Content That Isn't Performing
The first step is to identify which blog post you are going to optimize. Brian wanted to increase organic rankings and traffic and so he aimed for blog posts that were positioned between #7 to #15 in search results.
He knew blog posts sitting between these positions just needed a bit of a boost to get them into the top 5 where the majority of the organic traffic goes… 67.6% to be exact.
In order to find which pages are ranking #7 to #15, go to your Google Search Console account and click on "search analytics" under "search traffic".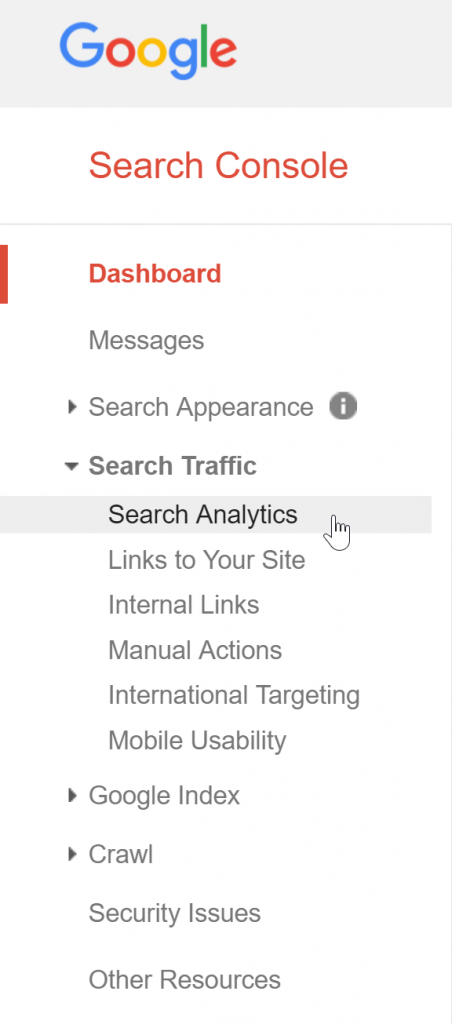 Once the page has opened, make sure the "clicks", "impressions" and "position" boxes are ticked.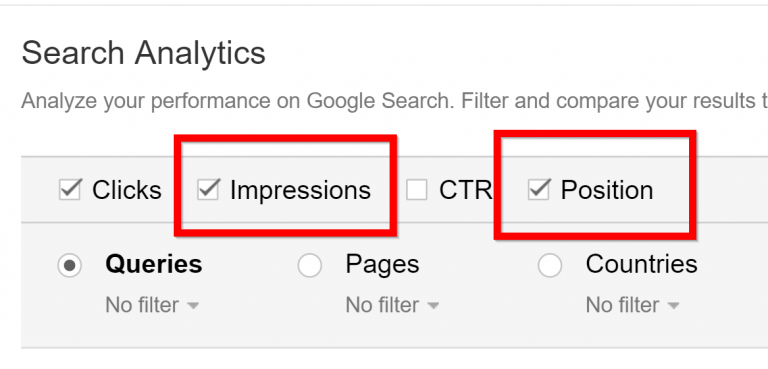 This will then provide you with a list of content on your website and what position they are currently sitting at. Note down which of them are currently in position #7 to #15.

These are the perfect pages to target for your historical optimization test as a good boost is more likely to get them to #5 than a blog post sitting on page 5.
As well as targeting which blog posts based on their current rankings, you can also target ones that:
The organic traffic is dropping – any blog posts that were once a great organic traffic generator that are now suffering a gradual decline of clicks will be great blog posts to optimize and relaunch.
Content that deserves better – we have all done it where you create a piece of content you believe is a true masterpiece and worthy of being #1 for it to only fail miserably. Don't give up on it, review how it can be improved and relaunch.
Blog & social media comments – if you notice people are asking questions in the blog comments or on social media then it is a clear sign that information is missing from your blog post. Use these questions to add more 'meaty' content to a blog post for added value.
2.      Make That Content Better… Much Better
You should now have a blog post in mind that you want to optimize and relaunch.
Before you do so though, it is important to think about what goal you want to achieve with this optimization; is it increase organic rankings and traffic as Brian's was or is it to increase conversions? Either way, make sure you decide this before continuing.
Conversion Rate Optimization
If you want to optimize your old blog posts to increase conversions then think about what offer or product you have that is most relevant for that particular blog post. For example, there is no point in me offering a free guide on how to generate sales from Instagram on this blog post because I'm not talking about Instagram. Readers have come to this blog post to find out how to increase organic traffic, not generate sales from Instagram so the likelihood of them converting would be pretty slim.
This may take some testing or you may be lucky at your first attempt. The beauty of historical optimization though is that you can update and relaunch as often as you like until you find what product or offer results in an increased conversion rate.
The best approach to have however is evidence backed assumptions of what will work rather than complete guesses.
The best way you can do this is to find out which keywords readers used to find the blog post. For example, if they used "SEO checklist" it would be safe to assume that readers were looking for an SEO checklist. I could then add a downloadable checklist to the old blog post which readers can submit their email to download.
HubSpot did just this and achieved a 240% increase in conversion rate.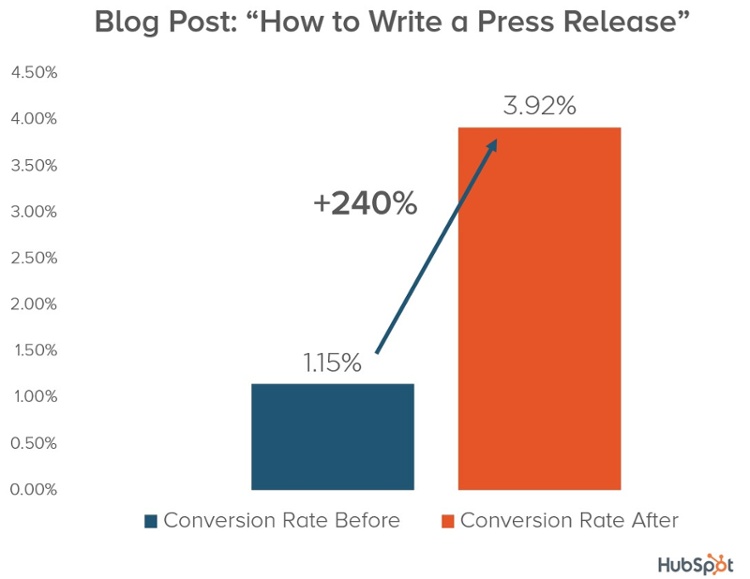 They have used this keyword based evidence on 75 of their blog posts and each and every one of them now has an increased conversion rate.
Increased Organic Search Rankings
Let's get back to Brian from Backlinko again. His goal was to increase organic rankings and traffic. If this is your goal then the historical optimization tactic is perfect because Google loves fresh content. A lot of people take "fresh" as meaning newly published content however a relaunched old blog post also counts as being "fresh". You will be helping your SEO efforts simply by updating old blog posts.
As well as having a content calendar with new content ideas, plan time to also update old blog posts regularly to keep them refreshed.
Here are some ways in which Brian updated his old blog post:
Images and screenshots – you may have taken a screenshot for a blog post two years ago of Twitter but now know that Twitter doesn't even look like that anymore. To keep this blog post up to date, keep screenshots and images up to date. People can get put off reading tips and advice on a blog post that is outdated.
Restructure old blog posts – you might find that an old blog post has a complicated structure or lack of a structure because you were still finding your 'blogging feet' back then. Go back to these early blog posts and improve their structure so they read better for the user.
Add a new interview, influencer opinion or case study – if you have an old interview, influencer opinion or case study then you can add value to that by adding an additional interview, influencer opinion or case study. You could also have a '2 years later' section to update readers on performance.
Feature a reader story – if you notice that one of the readers has implemented the tactics you have mentioned in the blog and has thanked you, it is a great opportunity to reach out to them and ask about their story. You could then add their story to the blog post they commented on to show future readers that not only do you care but that your advice is reliable.
Answer reader questions – head to the blog comments again and review the questions that are being asked. Use these questions to add further depth to the blog post because it is information your readers want to know about.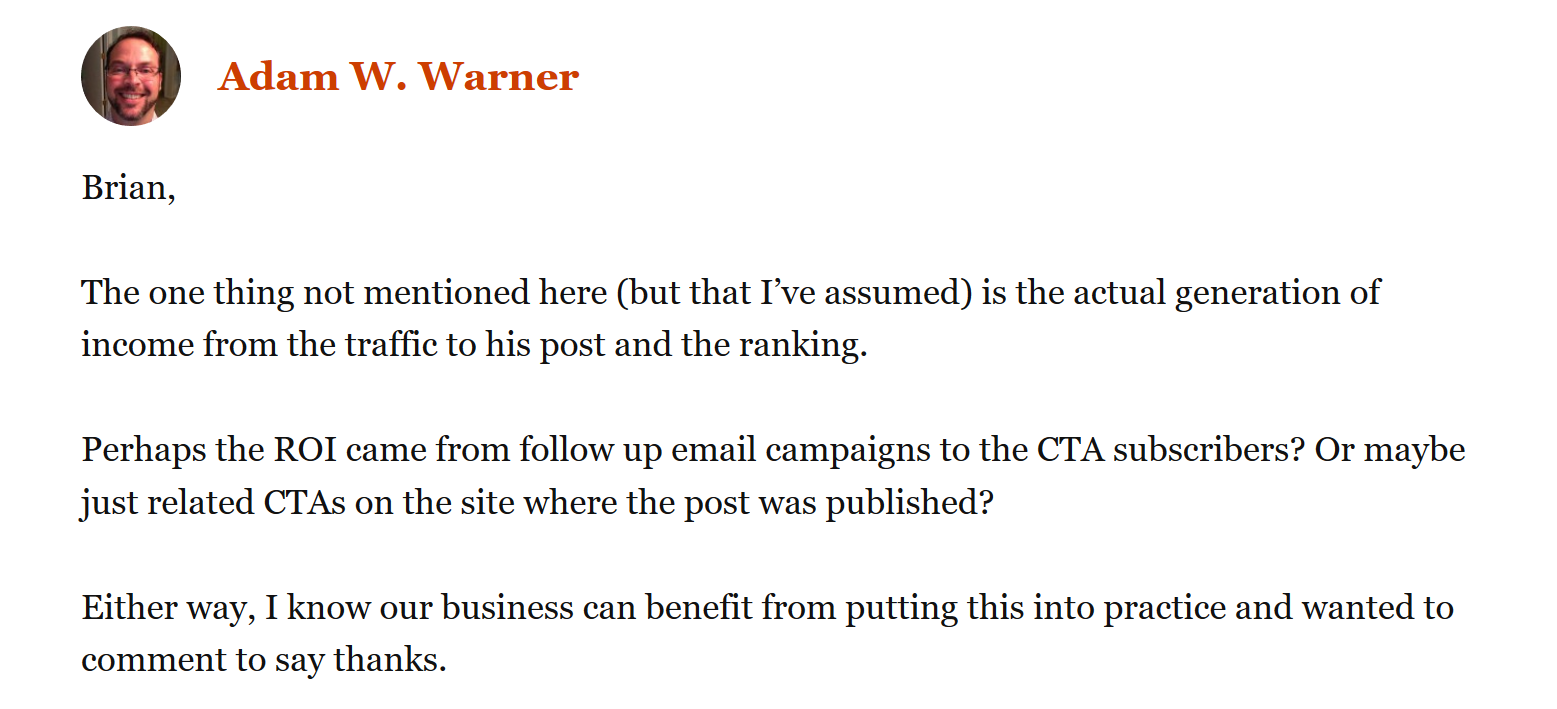 3.      Houston… It's Time To Relaunch
Now that you have updated your old blog post with new content, it is time for the relaunch.
This does not mean to hit "publish" and let nature take its course, oh no. This means to share your updated blog post with the world.
After Brian had relaunched his case study, he reached out to the client who the case study was based on and any other influencers that were mentioned in the blog post that it had been updated. They no doubt shared and linked to the newly updated blog post so their readers can see their story too.
Another thing Brian done was to email relevant bloggers before he relaunched the case study to build some hype.

One important thing you should do when relaunching content is to change the published date so that it appears at the top of your blog feed and not on page 13 where hardly anyone will click through to.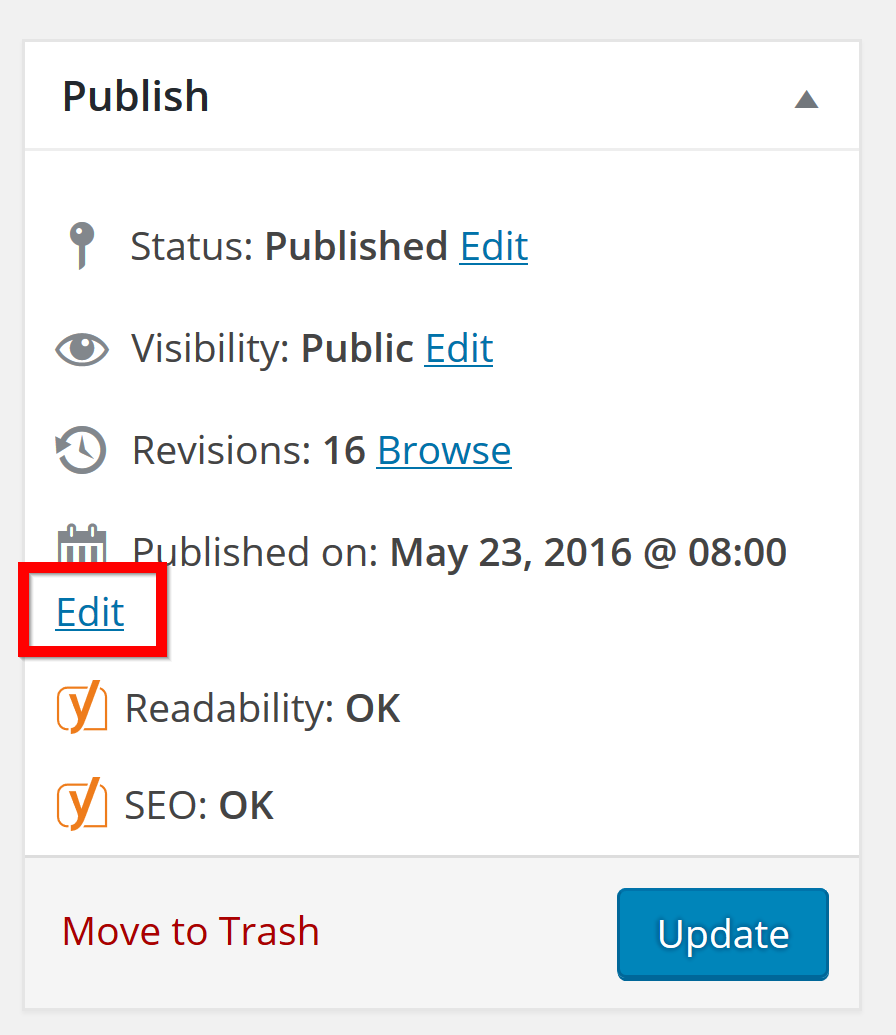 As well as email outreach and updating the published date, you should also share your updated blog post on social media. When doing this, make sure to highlight the most appealing aspect of the content to attract visitors. Brian's was to highlight a #1 ranking and $100K revenue: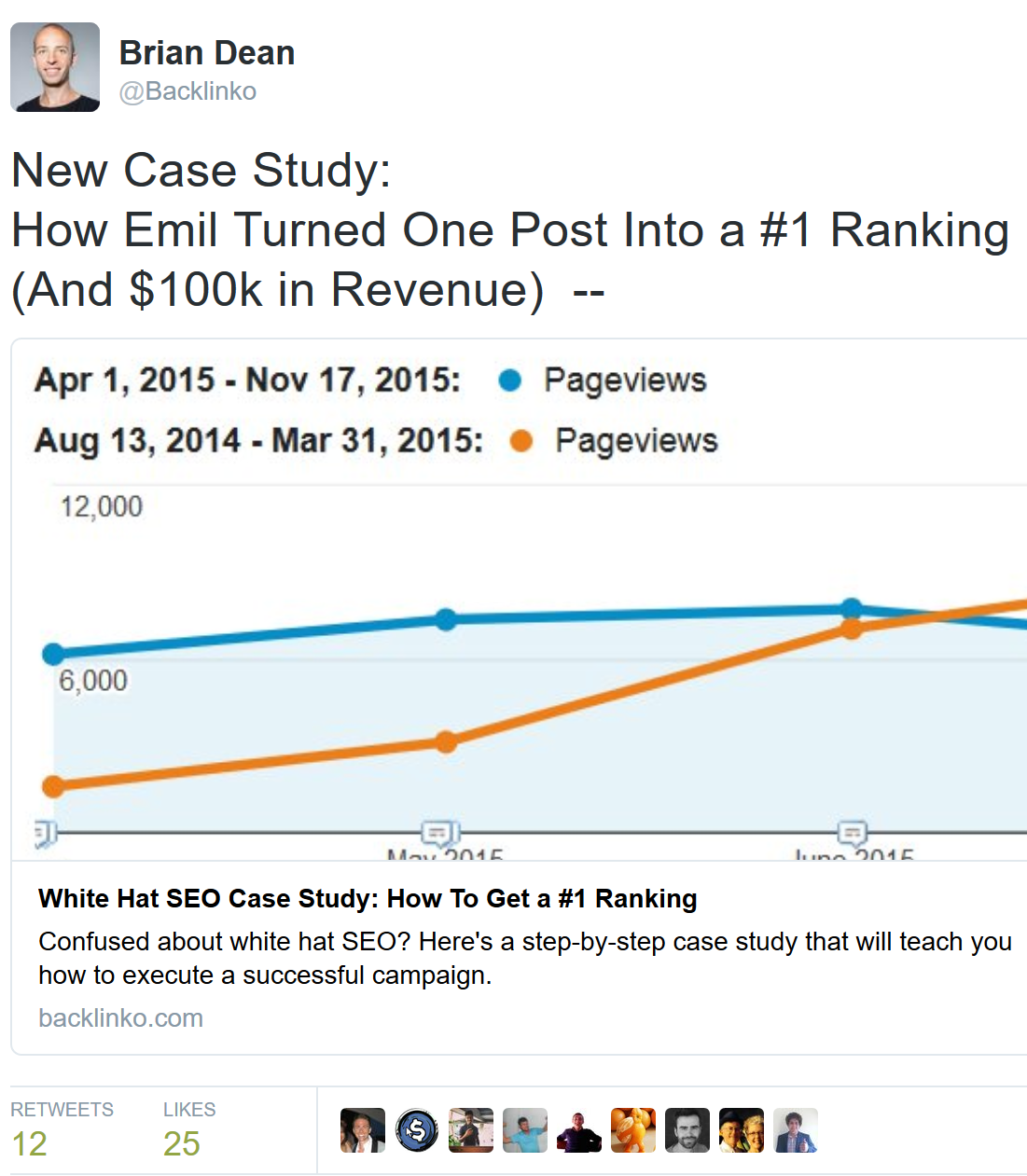 One last thing you should do is to email your own subscriber list to let them know one of their favourite blog posts has been updated with new stats, tips or opinions.
Conclusion
Here are some key things to take away from this case study:
Choose blog posts to optimize that are ranking #7 to #15 to give them that final push they need to get in the top 5.
Improve old blog posts with updated images, new opinions, new stats, answering reader questions and success stories.
Reset the published date so the updated blog post appears at the top of your blog feed.
Relaunch your updated blog post to social media, influencers and to your email list.
What do you think of this historical optimization technique? Let me know by leaving your comments below.