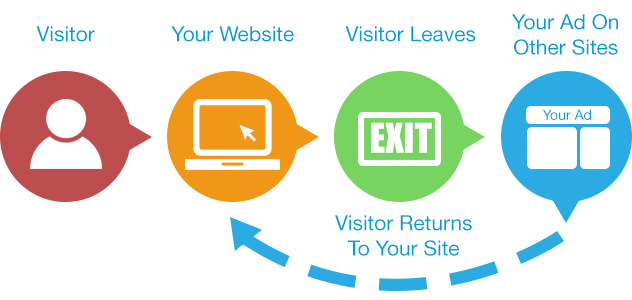 Here are 3 brands that have made remarketing work and how they did it:
1.     Mazda
If you haven't heard of Mazda… where have you been hiding all your life? They are a Japanese car manufacturer that has been around since 1920, selling cars worldwide.
The goal Mazda wanted to achieve was to increase the number of people wanting a test drive in local stores. To do this, they turned to remarketing and got the following results:
53% higher conversion rate from customers who saw the remarketing ad
98% higher value of sales from customers who saw the remarketing ad
20% Engagement rate from their remarketing ads
How They Did It
These sound like pretty great results to me which is why I have used their remarketing campaign as an example for this case study.
To get these results, they got creative with their remarketing. Here's how…
They Targeted A Specific Geographic Radius
Because they wanted to drive people to local stores for test drives, they knew they needed to target specific locations. They weren't going to target somewhere that didn't have a store nearby. The engagement rate would have been very poor if they had done so.
They researched what geographics would lead to the most engagement and conversions and specifically targeted those areas.
Some might think that the best thing to do would be to get your ad in front of as many people as possible. However having a more researched and targeted approach will lead to a higher conversion rate and ROI.
They Dynamically Inserted Specific Models Into Ads
The other thing they did to make their remarketing campaign successful was to dynamically insert the model of car the user was interested in, into their ads.
They knew that placing the specific model of car in the ad rather than using a generic ad, the user would be more likely to click-through and book a test drive. Mazda have proved that this level of dynamic detail works when it comes to remarketing.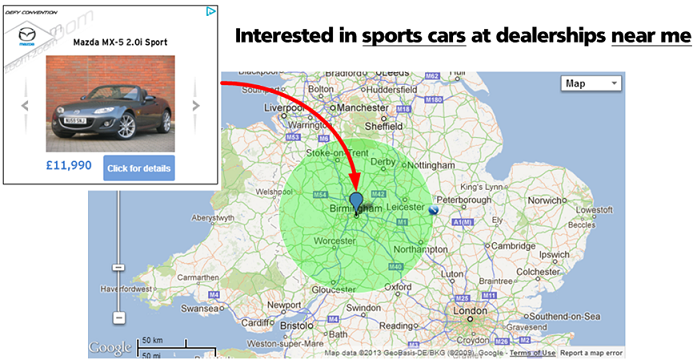 Key Things To Take Away
One of the key things to take away from the Mazda remarketing campaign is how dynamic their ads are. If you want to get a good click-through-rate and conversion rate, displaying products the user has shown interest in is the way to do it. You can use AdWords Dynamic Remarketing to do this.
You don't have to be a car manufacturer to use dynamic remarketing; it can be used for any type of product including shoes, jewellery, supplements and anything else.
The other key thing to take away is the geo-targeting. This is especially useful for those of you who wish to attract more people to your local store or if you only deliver in a certain radius. I'm sure you will agree that there is no point in targeting an audience that you can't deliver to or cannot easily get to your store.
2.     Watchfinder
The next brand in this case study is Watchfinder. If you love your watches, you have probably already heard of them. They are a second-hand online retailer of luxury watches and have been since 2002.
The aim of the game for Watchfinder was quite simple… to get more online sales. If you're also an ecommerce store then you will surely relate to this goal. Like Mazda, Watchfinder turned to remarketing increase online sales and got the following results:
Achieved a 1,300% ROI (for every $1 spent, they received $13 in return) in just 6 months.
13% Increase in average order value
34% Cheaper acquisition cost than non-brand search campaigns
How They Did It
We all love a good return on investment, you'd be mad not to! Just imagine having a 1,300% ROI in just 6 months? I bet you're getting extremely excited just thinking about it.
The great thing is achieving a high ROI like Watchfinder has isn't just a dream. It can be done, here's how:
They Created Audience Personas
Just as Mazda created location lists, Watchfinder created audience personas. What do I mean by audience personas?
Personas are made-up characters created based on behaviors and evidence. For example, you might create a persona of someone who window shops, discovers the product their interested in, shows an intent to buy by placing the item in the basket but abandons because they have not yet been paid. This would be one persona.
Watchfinder created 20 of these personas, all of which were people who showed an intent to buy but didn't for whatever reason.
They Segmented These Personas
The next thing they did was segment the 20 personas by location, internet service provider, online behavior and what stage of the funnel they abandoned the purchase.
While segmenting can cause a lot more work, it is worthwhile and is the only way you will truly find a winning formula that will achieve a high ROI.
After segmenting personas, they found that people visiting the website from a certain provider had the highest engagement rate and conversion rate. This is the level of detail that got them that 1,300% ROI.

Key Things To Take Away
The key thing to take away from this is the level of detail that Watchfinder went to in order to understand their audience and which of them are more likely to engage and convert.
You can build your audience personas using Google Analytics. There are literally thousands of ways you can slice and dice your analytics to create a number of different personas and segment them into different factors. You can also gather information from your account management and sales team (if you have them) to find out if there are any common behaviors with customers that will help build your personas.
Once you have used Google Analytics to find the different variation of your audience, you can then use AdWords Remarketing to target your ads to those specific audience personas.
Once the campaign has been running for however long, review which factors of the audience personas result in the higher conversion rate and increased ROI. Just like Watchfinder found that users from a certain service provider resulted in an increased conversion rate. Optimise your remarketing campaigns based on your findings and run them for another period of time, doing the same thing once that has finished.
Keep on doing this until you find that perfect formula that gets you an ROI worth shouting about.
Even once you have reached your goal, doesn't mean you have to stop there. You can continue to split test and optimise your remarketing campaign till there is literally nothing to split test… which is near impossible since there are thousands upon thousands of variations to play with.
3.     Lumension
I have shown you an ecommerce store so it is only fair that I use a B2B case study for my next example. Lumension is a security software company since 1991 making sure businesses IT is secure.
Their goal with remarketing was to increase leads, the same goal any B2B businesses have. Here are the results they achieved:
30% Decrease in PPC budget
How They Did It
Who would have thought that you could spend less to gain more with AdWords? This is actually often the case as a lot of businesses think by spending more, they will gain more. This couldn't be any further from the truth. You could be spending a ton of money but if you aren't targeting the right audience then I guarantee you won't be getting much back.
Lumension had a clever trick of targeting those who had shown interest in competitors but had not yet entered their own sales funnel. This is called behavioral intent lookalikes. They knew that these users were interested in their product because they had shown interest in competitors but they had not yet discovered the Lumension brand.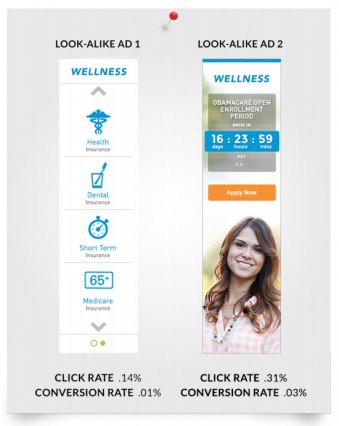 Conclusion
I'm sure you have enough proof now that remarketing works whether it be for local stores, ecommerce or B2B. I have given you an insight into what brands are doing to achieve the success they have through remarketing so you can do it yourself.
Remember that the important thing is to not just throw money into it or to group your remarketing lists into one group. Segment, split test, optimise and repeat until you find a formula that achieves a winning conversion rate, ROI and acquisition cost.
What are the main struggles you have faced with remarketing? Share your experiences and thoughts in the comments below.