HOW WE USED SEO AND BRANDING TO INCREASE JOSH CARTU'S WORTH
Josh Cartu is a famous Canadian Ferrari racecar driver and Ferrari club president. He is also a budding entrepreneur, known for auto racing all around the globe.
THE PROBLEM
Josh Cartu approached us in Nov. 2015 to help boost their new business, Cartu Racing. Unlike most online businesses that just need traffic, Cartu needed recognition and image building. Being a known name, he already had fans all around the globe, but his new business needed a boost. He explained how he wasn't getting a share of traffic that he thought he deserved as most people looking to know more about Cartu or his adventures were being redirected towards other websites, mainly due to little to no SEO on his own website and poor brand management. He knew he needed to change gears, but not how to.
THE RESULTS
We took on this challenge and were able to report incredible figures within the first four months. We were able to bring extra 150K visitors to Cartu's site within the first two months. His social media followers also increased by over 30%, giving him a unique edge and visibility. And we attained all this without 'PPC', which would've cost him around 500% times more.
30% more social media following
Infinite Brand Visibility
OUR STRATEGY
For this specific client, all our efforts were mainly targeted towards building a brand and not just getting more views. For this we did the following:
Get His Interviews Published On Major Online Publications
We gave Cartu's name a big push by getting his interviews published on different platforms including Huffington Post and Forbes, two of the biggest online platforms with a combined readership of over 200 million unique visitors per month.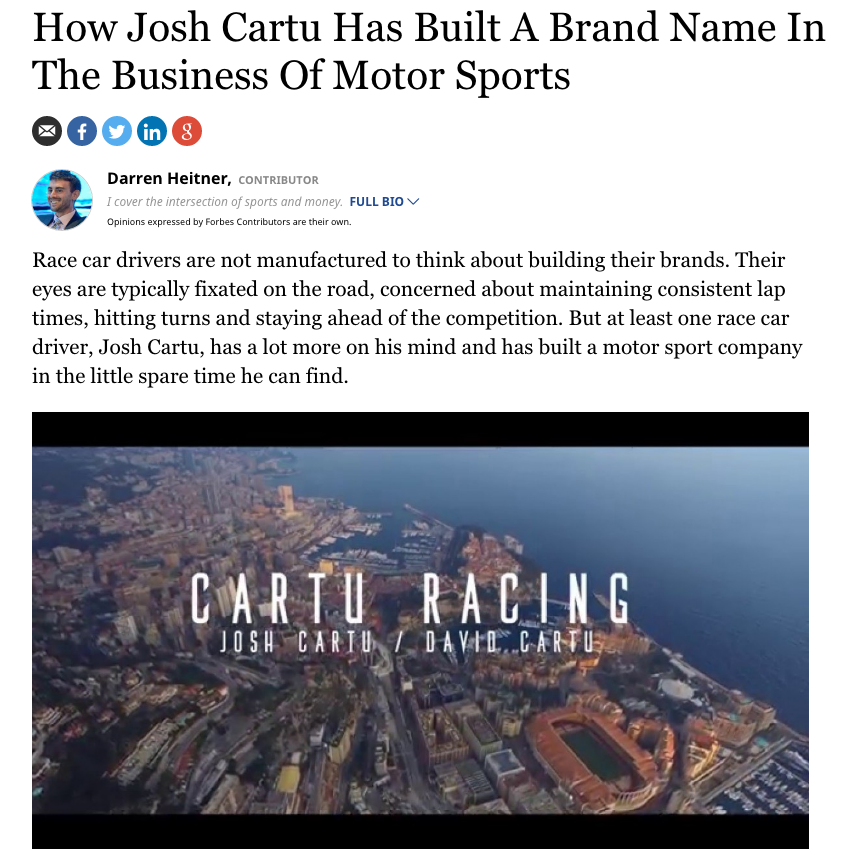 Talk About His Company In Magazines
We promoted his company Cartu Racing, and his race team with the help of content including written and visual content distributed on different platforms, including online and offline magazines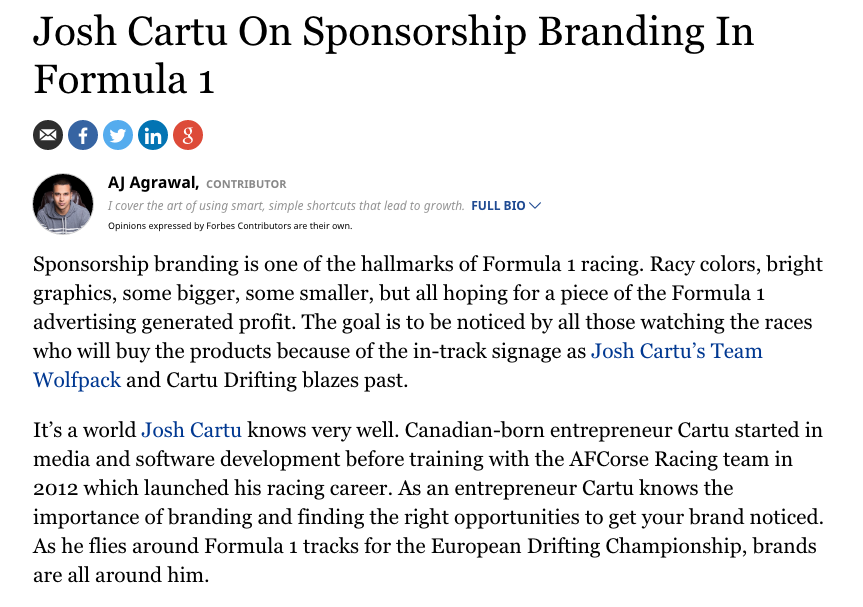 Getting Quality Backlinks
We got him backlinks from authority sites for relevant keywords. Our team searched for keywords and wrote quality and original content and got it published on authority sites that rank among the Top 100 websites in the US. The anchor text was chosen carefully and linked to relevant and informative pages, including his social media handles and official website.
Increase His Social Media Presence
We handled his social media platforms by promoting him with regular posts and also promoting his social media handles on different platforms.
Build Him as An Authority
We built Cartu as an authority by presenting him as an expert. We achieved this by ensuring that his name was mentioned among the greatest race car drivers. We also gave him a solid presence on Quora and other social media platforms.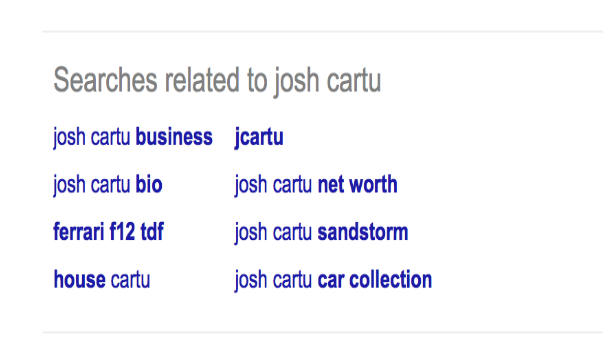 Finding More Opportunities
We helped Cartu find more opportunities online by providing him suggestions related to his brand name and online presence. We highlighted what people are searching for, as keywords related to Josh Cartu and his business began to increase as more and more people started to be aware of who Cartu was.
To ensure that Cartu's website is top notch, we provided training to his staff on how to handle content and online marketing. Branding is a continuous process and you need to be in public eye.
RESULTS
Cartu's name is world famous today. He has achieved a lot in his career, and there was just a need to highlight it. And this is what our team did within a span of a few months. Today, Cartu is getting tonnes of credit, loyal fans and above all interview requests and queries from major platforms. A search for the name 'Cartu' results in a number of relevant pages, including his own website which appears on page 1 of all major search engines.